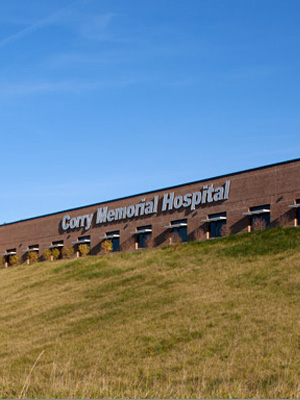 Corry Memorial Hospital
New plumbing construction, Corry, PA
Installation of domestic water service, natural gas piping, medical gas distribution systems, and seismic restraints.

Installation of new sanitary and storm sewers.
Domestic water system 
Installed 1.5 MBH RBI Futera boilers and 450-gallon hot water storage tanks for domestic hot water.

Installed circulating pumps, backflow preventers and mixing valves.

Installed 15,500 lineal feet of domestic water piping for distribution system.
Sanitary & Storm Sewer Systems
Installed 7,000 lineal feet of PVC piping for underground sewer and storm systems.

Installed 5,500 lineal feet of no-hub cast iron piping for above ground sewer and venting systems.

Installed grease interceptors
Medical Gas Systems
Installed Beacon Medaes vacuum pump system that included outlets for Oxygen, Nitrous Oxide, and medical air with alarm.

Installed 20 medical gas stations with 6,000 lineal feet of piping for distribution system.